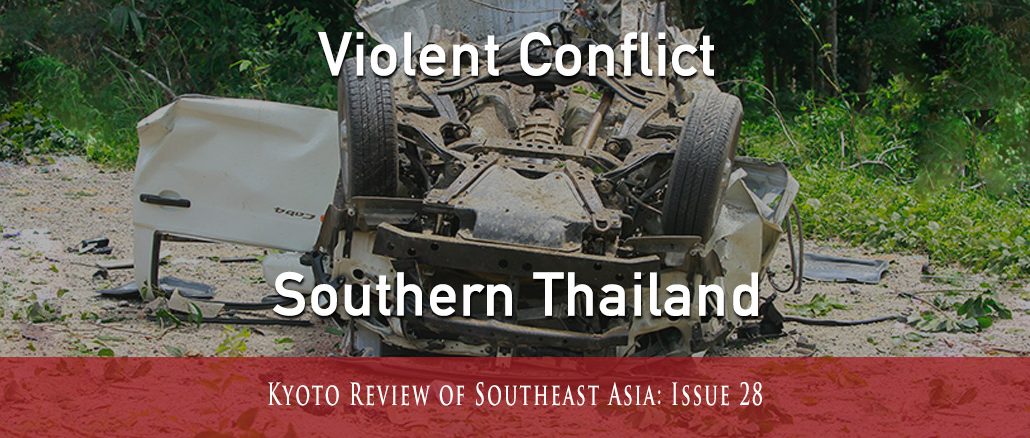 The Center for Southeast Asian Studies at Kyoto University proudly presents the new issue (28) of Kyoto Review of Southeast Asia (September 2020) titled "Violent Conflict in Southern Thailand". We have five articles as follows:
1. Patani Politics: Faces of the 2019 Election Campaign, by Duncan McCargo
2. A new Round of Negotiations in Thailand's Far South, by Don Pathan
3. Anthropology of Art and Nonhuman/Queer Narratives at the Southern Border, by Samak Kosem
4. The Last in a List of False Starts? The MARA Initiative for South Thailand (2015-2019), by Gerard McDermott
5. Civil Society in Thailand's Deep South and the Weak State, by Alisa Hasamoh
In this issue, we have Alexander Horstmann, Adjunct Associate Professor at the Department of Asian Studies, Tallinn University, Estonia, and Anusorn Unno, Associate Professor at the Faculty of Sociology and Anthropology, Thammasat University, as our Guest Editors. Thank you very much.
All articles are translated from English into Japanese, Thai, Bahasa Indonesia, Filipino and Vietnamese.
This issue, as usual, also includes a section of book reviews. The list of book reviews is below:
1. ตาสว่าง [Ta Sawang], by Claudio Sopranzetti, Sara Fabbri and Chiara Natalucci, reviewed by Pavin Chachavalpongpun
2. The Marawi Siege and its Aftermath: The Continuing Terrorist Threat, by Rommel C. Banlaoi, reviewed by Rizal G. Buendia
3. Man of Contradictions: Joko Widodo and the Struggle to Remake Indonesia, by Ben Bland, reviewed by Liam Gammon
4. The Rise of Sophisticated Authoritarianism in Southeast Asia (Elements in Politics and Society in Southeast Asia), by Lee Morgenbesser, reviewed by Joshua Kurlantzick
5. Thailand: History, Politics and the Rule of Law, by James Wise, reviewed by Paul Chambers
6. A Life beyond Boundaries: A Memoire, by Benedict Anderson, reviewed by Binit Guring
Finally, for the Trendsetters column this month, we present a piece on "Kingdom's Edge by Richard Humphries", a unique photo essay capturing life int he Deep South of Thailand.
Website: https://kyotoreview.org/issue-28/editors-introduction-at-the-margins-of-the-siamese-kingdom-violent-conflict-in-southern-thailand/
For Book Reviews: https://kyotoreview.org/reviews/
For Trendsetters, here it is: https://kyotoreview.org/trendsetters/kingdoms-edge-by-richard-humphries/
Please also visit our Facebook Page: https://www.facebook.com/kyotoreview